Sale
Decorative perforated metal sheet products
$5.60
Metal wall cladding panel
Material: Stainless steel plate copper coated
Sheet Thickness: 2.0 mm
Hole shape: Square
Hole diameter: 100 mm
Description
Decorative perforated metal sheet products
Materials:  Plication of decorative perforated metal sheet products
202 310  304 304L 316 316L Stainless Steel Plate,  Low Carbon Steel Plate, Aluminium Plate, Alloy Plate,  Bronze, Brass, Titanium, etc.
Thickness: 0.3-12.0mm
Mesh size: 1220*2440mm,1200*2400mm,1000*2000mm or customized
Hole shape: Round, square, diamond,rectangular perforations,octagonal cane,grecian,plum blossom etc,can be made as your design.
Surface treatment:
1.PVC coated,2.Powder coated,3.Anodized,4.Paint,5.Fluorocarbon spraying,6.Polishing
Special designs and size is also available at customed requirement.
Description of Stainless steel perforated metal sheet
Hole Diameter
mm
Staggered Centers
Sheet Thickness
mm
Open Area
0.045″
1.14
0.66″
0.033-0.039″
0.84-0.99
37%
1/16″
1.59
3/32″
0.027-0.033″
0.68-0.84
41%
1/16″
1.59
1/8″
0.027-0.066″
0.68-1.68
23%
5/64″
1.98
1/8″
0.027-0.053''
0.68-1.35
35%
0.081″
2.06
 1/8″
0.053-0.066″
1.35-1.68
38%
3/32″
2.38
5/32″
0.053*0.066″
1.35-1.68
33%
1/8″
3.17
3/16″
0.027-0.127″
0.68-3.23
40%
5/32″
3.97
3/16''
0.027-0.056″
0.68-1.68
63%
3/16″
4.76
1/4″
0.027-0.127″
0.68-3.23
50%
Aplication of decorative perforated metal sheet products
1.Aerospace: nacelles, fuel filters, air filters
2.Appliances: dish washer strainers, microwave screens, dryer and washer drums, cylinders for gas burners,
water heaters and heat pumps, flame arrestors
3.Architectural: stairs, ceilings, walls, floors, shades, decorative, sound absorption
4.Audio Equipment: speaker grills
5.Automotive: fuel filters, speakers, diffusers, muffler guards, protective radiator grills
6.Food Processing: trays, pans, strainers, extruders
7.Furniture: benches, chairs, shelves
8.Filtration: filter screens, filter tubes, strainers for air gas and fluids, dewatering filters
9.Hammer mill: screens for sizing and separating
10.HVAC: enclosures, noise reduction, grilles, diffusers, ventilation
11.Industrial equipment: conveyors, dryers, heat dispersion, guards, diffusers, EMI/RFI protection
12.Lighting: fixtures
13.Medical: trays, pans, cabinets, racks
14.Pollution control: filters, separators
15.Power generation: intake and exhaust manifold silencers
16.Mining: screens
17.Retail: displays, shelving
18.Security: screens, walls, doors, ceilings, guards
19.Ships: filters, guards
20.Sugar processing: centrifuge screens, mud filter screens, backing screens, filter leaves,
screens for dewatering and desanding, diffuser drainage plates
21.Textile: heat setting
Featuresof decorative perforated metal sheet
1.can be formed easily
2.can be paint or polished
3.easy installation
4.attractive appearance
5.wide range of thicknesses available
6.largest selection of hole size patterns and configurations
7.uniform sound abatement
8.light weight
9.durable
10.superior abrasion resistance
11.accuracy of size
The Images of diferent types perforated metal sheet products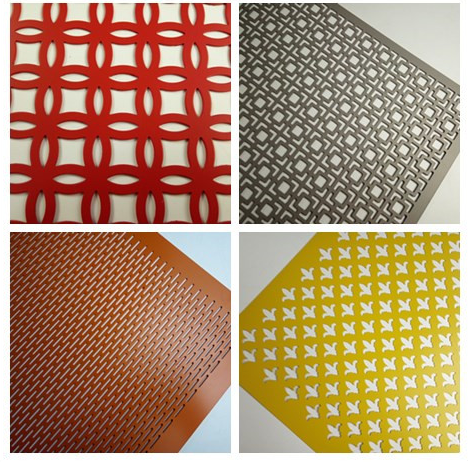 The packages of decorative perforated metal sheet products
1.On pallet with waterproof cloth
2.In wooden case with waterproof paper
3.In carton box
4.In roll with woven bag
5.In bulk or In bundle
Check out other related products